Want To Charge Your Electric Vehicle At Home? Have an EV Home Charger Station Installed!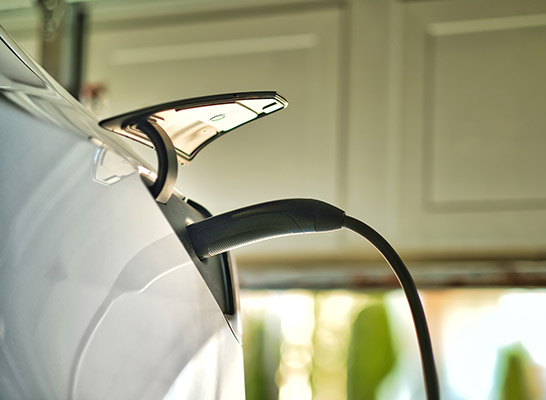 Every day, more car manufacturers are adding electric vehicles to their lineup. Plenty of drivers embrace this trend, buying electric cars of their own.

Are you ready to upgrade to an electric vehicle but hesitating because of the question, "how am I going to charge it quickly?" At RS Martin, we eliminate that question for you. We can install an extremely efficient EV home charger station for your at-home use in just a few hours in most cases.

Whether you are planning to buy an electric car or you already have one, we can get a home EV charger installed that works for your vehicle and charges it quickly. Get in touch with us today to learn more!
What Types of Home EV Chargers Are There?
There are three types of EV chargers available on the market.
Level 1: This charger typically comes with the electric vehicle and is suitable for at-home use immediately.




Level 2: Requires installation by skilled electricians for at-home use.




Level 3: The type of charger you will find at a commercial site or public charging station.
Currently, Level 1 and Level 2 chargers are the only types you will find in homes. If you would like to upgrade to a Level 2 EV home charger, choose one of the EvoCharge options from the experts at RS Martin!
What is EvoCharge?
EV home charger technology is so new that it can be challenging to figure out what's suitable for your vehicle. When you are looking for a high-quality electric car charger for home, you can trust the technology from EvoCharge. There is an option for all your home EV charging station needs with several charger model options, including wall attachments and pedestal mounts.

EvoCharge EVSE charging stations are compact and durable, with charging cables in multiple lengths for ease of use. They are functional indoors and outdoors, and some models come with network capabilities so you can connect your charger to the WiFi and enjoy enhanced features.

At RS Martin, our expert electricians can install EvoCharge hardware in your home, making owning an electric vehicle even more convenient than ever before!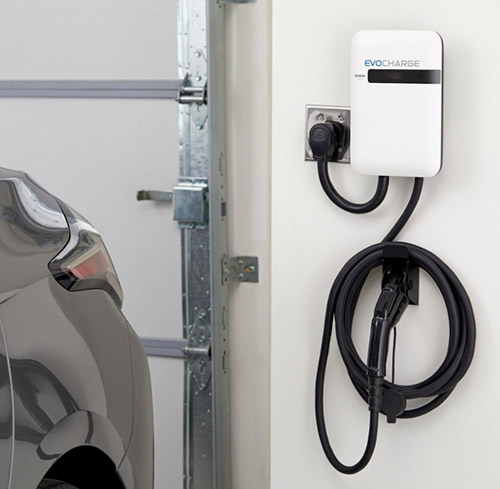 FAQs About EV Home Chargers
Because of how new Electric Vehicles are, there are plenty of frequently asked questions about how they work, including what charging options are available.
1. WHAT'S THE DIFFERENCE BETWEEN A LEVEL 1 AND LEVEL 2 EV CHARGER?
The two significant differences between these two EV home charger levels are charging speeds and the type of installation required to use them.

When you purchase an electric vehicle, it comes standard with a Level 1 charger cord. This cord can plug into any 120-volt electrical outlet in your home and needs no further installation. However, it would be best to have an electrician inspect your home to ensure that your electrical systems can handle charging an electric vehicle. Level 1 EV chargers are a slow-to-charge option, but they come standard with the vehicle, so you will always have some way to charge your car while it isn't in use.

For those who require a full battery more quickly, Level 2 chargers can fill up your vehicle's battery much faster than Level 1. A Level 2 charger requires installation by a professional electrician because it is a 240-volt charger. Depending on the type of vehicle you own, you may find that it charges five times as fast as it does on a Level 1 charger.
2. WHY SHOULD I CHARGE MY VEHICLE AT HOME WITH A LEVEL 2 EVOCHARGE EVSE CHARGER?
Several factors make having a Level 2 EV charger the best choice for owning an electric vehicle.
Convenience: You know your vehicle is charged and ready to go when you wake up in the morning when you have a Level 2 EV charging station at home.




Cheaper than Charging at Public Stations: Installing a home EV charger can be expensive, but having that charger can help keep your overall costs associated with charging the car much lower. You are at the whims of the person who owns the EV charger at public charging stations. They can set whatever fees they see fit to cover the cost of using their charging station, plus whatever they'd like for the energy you use. Depending on where you charge up, this can be pretty expensive.




Extend Car's Battery Life: Public EV chargers are typically Level 3. While they are much faster at charging your car's battery to complete, they also reduce your battery's life. It is better to let the battery charge slowly on a Level 2 charger for the battery's long-term health.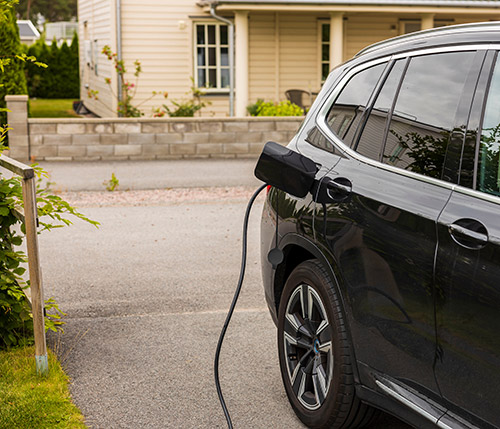 3. CAN I HAVE MY HOME EV CHARGER INSTALLED OUTSIDE?
There are EvoCharge Level 2 charging station options for outdoor installation. These options include charging stations on 6ft pedestals with either single or dual ports to charge one or two vehicles.
Trust RS Martin to Install Your EvoCharge Level 2 Charging Station!
EV owners like you want the best for their vehicles, especially when charging them and extending the battery's life. When you trust your EV home charger needs with the electrical experts at RS Martin, we take the time to learn about your needs and help you choose the right EvoCharge Level 2 charger for your car. We offer several EV charger models, including stations with innovative, WiFi-enabled features customized for your vehicle to meet your needs. Get in touch with us today to learn more!