Let Our Commercial and Industrial Electricians Impress You with Top-Notch Service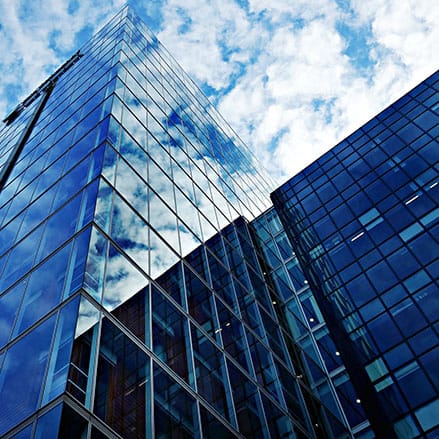 Choosing the right commercial or industrial electricians for your facility's needs can feel like a project by itself. Electrical services like installations, repairs, and preventative maintenance are part of keeping your business up and running efficiently, especially in today's increasingly electrical world. There is much more demand for high-quality electrical solutions, and we know searching for them can be stressful.
Let us help! At RS Martin Electric, we are a family-owned and operated business with over 30 years of experience. In that time, we have grown and evolved to remain the experts in our industry right here in Lancaster, PA, and the surrounding areas.
When your commercial electrical system needs attention, you deserve expert help. Our commercial and industrial electric services have helped hundreds of customers just like you satisfy their electrical needs, so schedule a free estimate with us today!
Commercial Electricians for Your Industrial Electrical Needs
Commercial electricians perform daily electrical tasks such as common electrical repairs or equipment installation. They are trained to work on lower voltage equipment, so these electricians usually only work on projects with a higher voltage if they have the proper training.
An expert commercial electrical contractor likely conducts any project requiring an electrician to review the wiring in a storefront, restaurant, or similar buildings. When they work on higher voltage equipment, it's typically things like an air conditioning system.
What Do Industrial Electricians Do?
Industrial electricians spend years training to care for electrical issues in industrial facilities or manufacturing and production plants because they are preparing to deal with high voltages and sensitive, expensive equipment. Industrial electricians cannot make mistakes without compromising production or manufacturing, making their job even more critical.
We highly recommend that you call for an industrial electrician when you need industrial electrical services, such as installing a new system or significant electrical equipment repairs and maintenance.
What's the Difference Between Industrial Electricians and Commercial Electricians?
Don't let similar names fool you because an industrial electrician and a commercial electrician have two different roles! While the two may share a basic electrical knowledge, each different specialization requires extensive education and training. Industrial electricians especially have more extended educational periods, sometimes for several years longer than commercial electricians.
That's why when you need electrical work, you need a top-notch, highly trained electrician with the expertise to get the job done correctly and safely. Trust RS Martin Electric to deliver you the best electrical services in the Lancaster, PA, region. Unsure of what type of electrician you need? Contact us today, and we will send one of our highly specialized commercial or industrial electricians to give you a free estimate based on your project's needs.
The Commercial and Industrial Services You Need
Whether your office has flickering lights or you're running a business with an air conditioner on the fritz, electrical issues can be disruptive or sometimes even dangerous. You can call our experts for anything, as we offer various services ranging from the small to the complex. See anything on this list that we can help you with? Contact us for more information or to learn more about other services we offer!
3 Phase Service & Repair
Solar Electric
Energy-Saving Upgrades
Light Bulb Replacement
Telephone/Data Cabling
Parking Lot Lighting Repair
Design-Build Plans
LED Lighting Upgrades
Restaurants
Machine Controls & Factory Automation
Electric Vehicle Charging
Bucket Truck Service
Standby Generators
Install Fire Alarm Systems
Direct Current Service & Repair
High Voltage Service & Repair
New Construction/Remodels
Senior Care Facilities
Commercial Mall Fit Outs
Industrial Wiring and Control
Service For All of the Above
24-Hour Emergency Services
When an emergency strikes, you do not have time to make an appointment. We know how complex electrical issues can be, so we offer 24-hour emergency services. Get in touch with us—day or night—and we will send out a highly trained electrical contractor to give you the quality service you need right when you need it. Our 24-hour emergency services are available for our residential customers, too!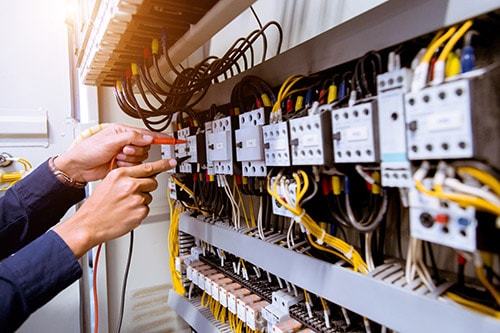 What Help Can You Get From Our Services?
Have you noticed your electrical bills have gone up unexpectedly? Have you had appliances or production equipment malfunction or stop working for seemingly no reason? Our industrial or commercial electricians near you want to look at your systems to ensure they perform effectively and safely.
Suppose we discover an area that needs updates to help you save money on your electric bill. In that case, we can upgrade your electrical systems to be more energy-efficient. Keeping your electrical equipment in working order through our preventative maintenance services will help prevent costly future emergencies.
Call today for a free estimate for any of our services! You will find our qualified electrical contractors to be respectful to you, your employees, and your working environment because we strive to provide our corporate customers with the best service possible.
Are You In Our Service Area?
Everyone deserves top-notch, high-quality electrical services! That's why our commercial and industrial service area extends up to an hour and a half in any direction from our shop. This scope includes the Greater North Philadelphia, Berks County, Harrisburg, and Allentown areas. Unsure if your location falls within our scope of service? Get in touch with us today, and we can talk to you about your needs and if we can make it to your location!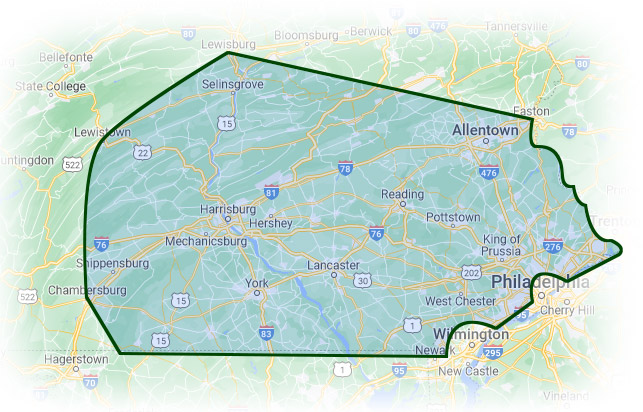 Let RS Martin Take Care of Your Commercial
or Industrial Electrical Services
Because we have been providing our customers with quality service for over three decades, we are ready to help you with your commercial and industrial electrical needs. Suppose you are considering new construction, the addition of new equipment, require additional amperage, or need your office rewired. In that case, RS Martin can accommodate your needs because no project is too big or too small! We would be happy to take a look and give you a free estimate.